Vibram FiveFinger KSO Trail - 3 years later
I bought my pair of Vibram FiveFinger KSO Trail in April 2013 and have used them very much since then. It were my first barefoot shoes I used and they helped me to do the transaction form normal running shoes to the barefoot. They are worn down now, but have done an excellent work for my feed all the time I had them.
They are called trail shoes, but I have not been very happy for them there, special when you are going fast downhill, as you are going to feel every little stone on your track, my opinion is you need something little more protective there, also the grip is not for mud trails, you slip very easy if the trail is wet.
Actually I bought some more heavy trail shoes, but missed the feeling from my fivefingers so much, that I tolerate the beating of my feed and used them sometime when the track was dry.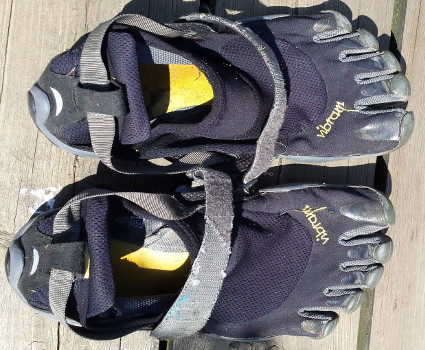 Picture 1

. 3 years after I bought them.


Now 3 years of used, the shoes soles are worn down on my foots landing zone, outer front, see picture 2. But that must be expected with the used I have done, yes I did not expect them to last so long. The upper has a small rip in both shoes, but nothing there prevent them to be used still.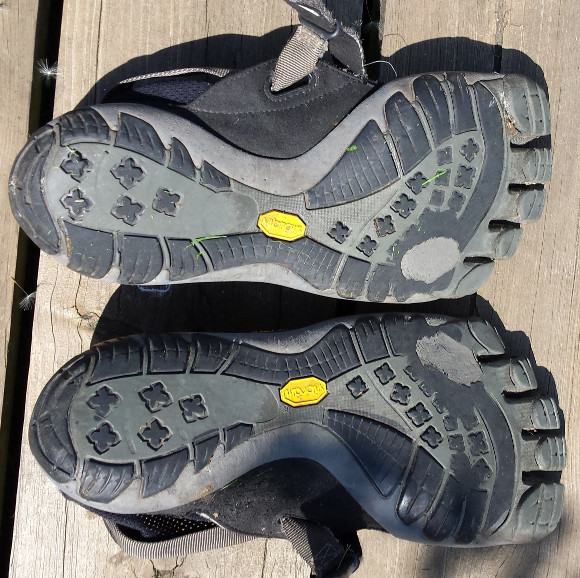 Picture 2

. The soles are worn down, even there still is a bit of life in them.


The shoes have two defects:
Flowers, grass and stones have a tendency to get stuck between the toes, when you are on a track or meadow, that can be very irritating.
As I run without socks in the shoes, the shoes stink so much that I can't leave them inside.
Especial point two is a deal breaker, I know that I can buy finger socks from Vibram, but 15 € for a pair of socks is to much, after my opinion.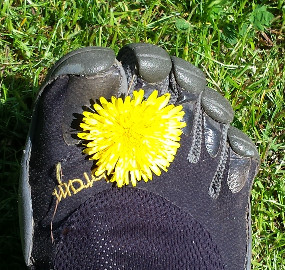 Picture 3

. Flowers, grass and stones have a tendency to get stuck between the toes.


So I have decided my substitute for the Firefingers will not be a new pair of Firefingers. I have been very much in doubt if I should buy a new pair, because I have been so happy for the shoes, but in the end I thought I would give a more normal shoe form the change, even still barefoot.