Skins fried mackerel with stewed cucumbers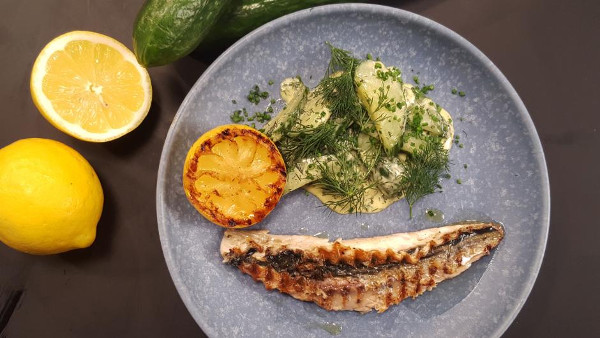 4 pcs. mackerel filet with skins
3 tablespoons. olive oil
2 pcs. lemons
Salt
Pepper
2 pcs. cucumbers
20 g butter
2 dl cream
1 bunch dill
Salt
Pepper
Mackerel
Season the mackerel fillets with salt and pepper and let them pull for 15-30 minutes. Put them on the fridge while you are making stewed cucumbers.
Warm a griddle pan up (a regular pan can also be used) until it's hot.
Brush the mackerel fillets on each side with the olive oil.
Fill the fillets on the very hot grilled pan, with the skins side down, and the grill mackerel fillets almost finished. Loosen them gently from the pan with a palette and give them the last 20 seconds on the meat side. Cut the lemons in the middle and grill them until they are light black and caramelized.
Put the grilled mackerel on a plate and serve immediately with the stewed cucumbers and the grilled lemons.
Stewed cucumbers
Peel the cucumbers and cut them the long way over and scrape away the kernels.
Cut the cucumbers into slices ½ cm slices. Put them in a hot saucepan with the butter, let them warm well through, without bleeding for approx. 2 minutes.
Mix with the cream and freshly ground pepper and turn up the heat. Let the cream boil into a thick sauce.
Serve immediately with the grilled mackerel.